Kinkel's literary estate
jump to filter-options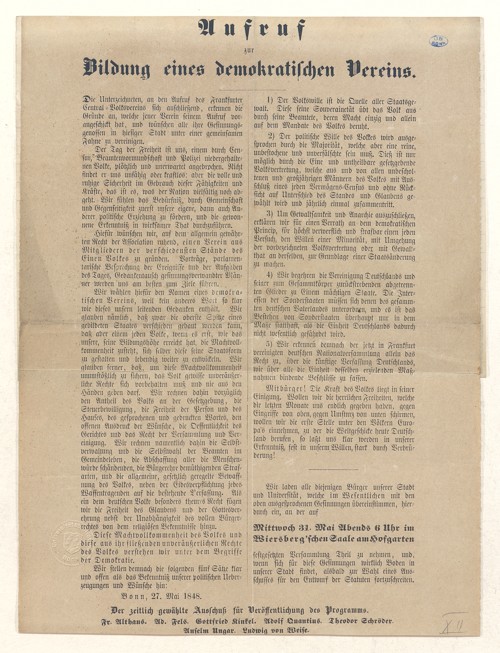 An Appeal for the development of a democratic organization / Fr. Althaus.
Ad. Fels. Gottfried Kinkel ... - Bonn, May 27th 1848 (S2702 : 2 : 6)
The theologian, art historian, poet and revolutionist Gottfried Kinkel (1815-1882) is one of the most important personalities of the 1848/1849 revolution in the Rhineland. After completing his studies in protestant theology in 1837, Kinkel initially worked as a lecturer for ecclesiastical history at the Faculty of Protestant Theology at Bonn University. He was however forced to convert to the Faculty of Arts after his marriage with the divorced composer, pianist and music teacher Johanna Mathieux nee Moeckel. There he earned his doctorate in 1845 and was appointed professor for art history and literary history in 1846.
Due to his participation in the rebellion of the "badisch-pfälzisch" region 1849, Gottfried Kinkel was sentenced to life imprisonment. In 1850 he managed to escape to London where he lived until 1866. From 1866 until his death in 1882 Kinkel resided in Zürich.
Bonn University and State Library received Kinkel's literary estate in two tranches of which the first was acquired in 1928/29 and the second in 1959.
On the occasion of the 200th birthday of Gottfried Kinkel on 11th August 2015 the University and State Library Bonn digitises documents of the literary estate that deal with his political activity in the revolutionary year 1848. They comprise letters and manuscripts, but first and foremost newspaper cuttings that shed light on Kinkel's political activity at first in Bonn and later as Member of Parliament in Berlin, his imprisonment, his trial in Cologne in 1849, his imprisonment in Naugard and Spandau as well as his escape to England and the exile in London. In addition to this, compositions of Johanna Kinkel as well as publications of and on Gottfried Kinkel can be found in the digital collections of Bonn University and State Library.
Translation: Victoria Milhan